Simple Calendar App
What Makes This App So Easy To Use?
Simple calendar app is something that is often hard to come by. A lot of apps today overcomplicate things, or they are slow and dated. We are proud to be different. We have worked hard to ensure that our app is intuitive and provides a great user experience. So, what makes Yearful's year planner app so easy to use? Well if you're used to using spreadsheets then you'll find Yearful a doddle. It's been designed with simplicity and ease of use in mind. No more entering dates day-by-day or fiddling with lots of options and text boxes. Adding a new event to our simple calendar app is just a matter of clicking the date you want to start at and dragging the mouse to select the rest of the dates. Simple!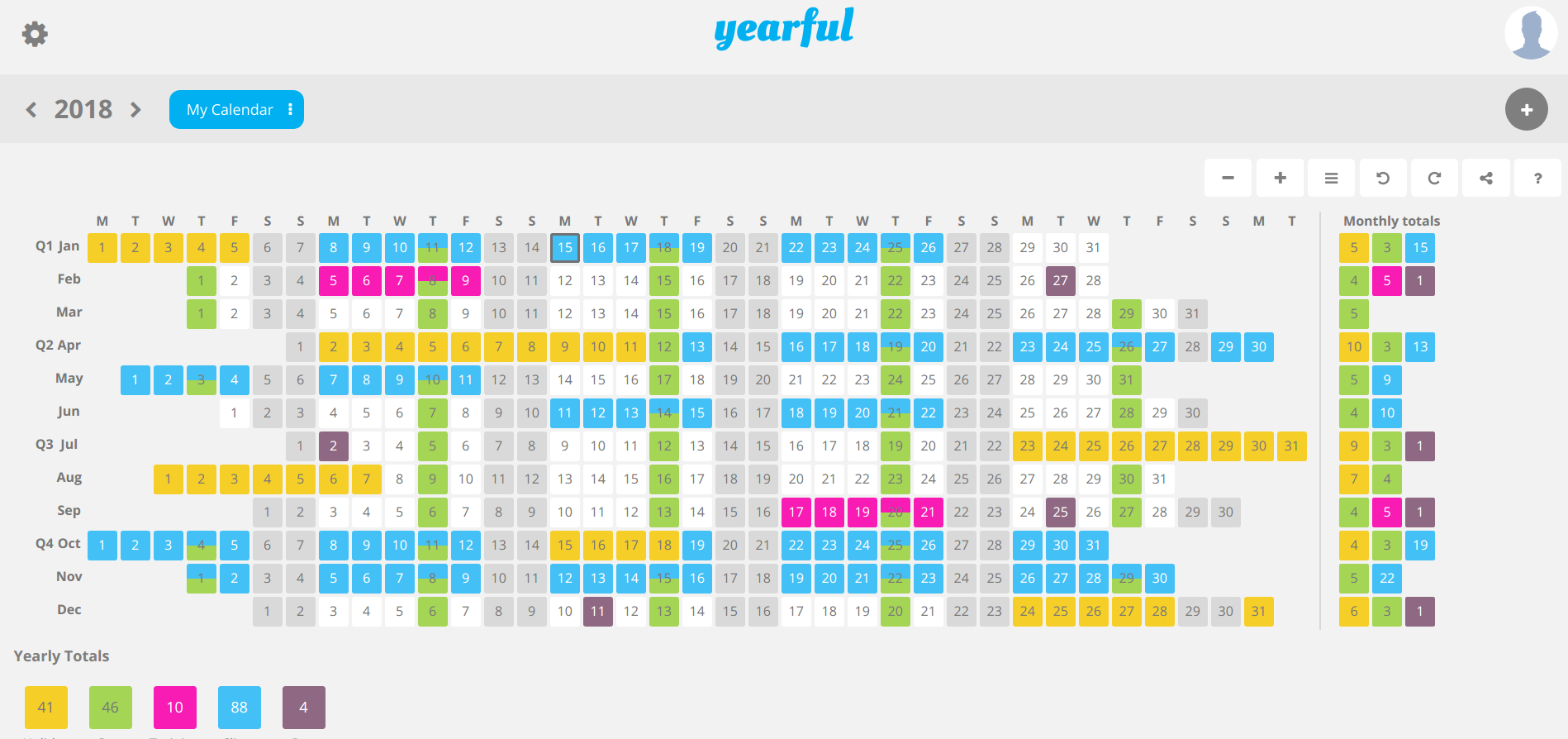 Use The Calendar App Like A Spreadsheet
Have you ever used a spreadsheet before? If so, you will find our yearly calendar app a breeze to use. That's right – it operates in the same way you'd select cells on a spreadsheet. You can select dates in any number of combinations. This includes horizontally along the same month, horizontally for two months or more months, vertically for the same day across many months, vertically for two or more days across many months, single day/half day, and a whole year. This makes it straightforward for you to tailor the app to suit your needs. You can manage your time or your projects with ease thanks to simple colour coding. You can also stack numerous categories onto any day, so you can overlap more than one event. Our simple calendar app also operates like a spreadsheet in the sense that you can open numerous tabs to keep your plans organised for the year or to track various projects with multiple layers. Once you download this basic calendar app, you will see for yourself how easy it is to use. Unlike other confusing project planning apps, you won't need any design skills, nor do you need a printer or a degree in coding. Anyone can use it!
Total Me Up
Adding Up Your Events In This Calendar Planner App No matter whether you are looking for a daily, a weekly, yearly or monthly calendar app, our app can be of use to all sorts of people. From social butterflies and freelancers to project managers and business owners, the functionality and scalability of this app means it can easily be tailored to suit your specific needs. If you are a freelancer, our easy to use calendar app makes it a doddle for you to track your work, which can be a challenge when working for multiple clients at the same time. You can see any gaps in your schedule, and you can calculate billing days without having to scroll through notes you have jotted down or put in your calendar. For business owners, you can do everything from enabling your staff members to see gaps in the roster to tagging your clients so they can access billable hours. And if you are simply the life and soul of the party, you can make sure that you have your life in control so you know where you need to be and when. Adding events to the app is easy, and the functionality doesn't stop there. Once you've added all your events to this, the best simple calendar app on the market, the totals for your events will be displayed by month and by year. For example, if you've added 2 weeks holiday in the summer and a week at Christmas your yearly total holiday will show as 21 days. And speaking of holidays…
Plan National Holidays With Ease Using Our Simple Calendar App
To make it even easier for you to plan your year, you'll find the national holiday dates for 5 countries pre-loaded to the year 2025. These are: United Kingdom, United States, Canada, Australia & New Zealand. Simply click the settings cog on the top left corner to pick which country holidays you'd like to display. If you haven't yet tried this simple calendar app then give it a try now and get organised fast! If you have any questions about the app, please do not hesitate to get in touch. You can contact us via our online contact form.