Year Planner App
See The Bigger Picture
Year planner app, by Yearful, is this something you could benefit from? How is it different to a diary or wall calendar? These are just two of the questions you may ask yourself about Yearful. If you have appointments to get to, birthdays to remember, or work deadlines that must not be missed, then being able to see all of these (and more) on one page can make a huge difference. If you want to improve your organizational skills and never miss another important date, then read on and find out more about the benefits of planning your year the Yearful way.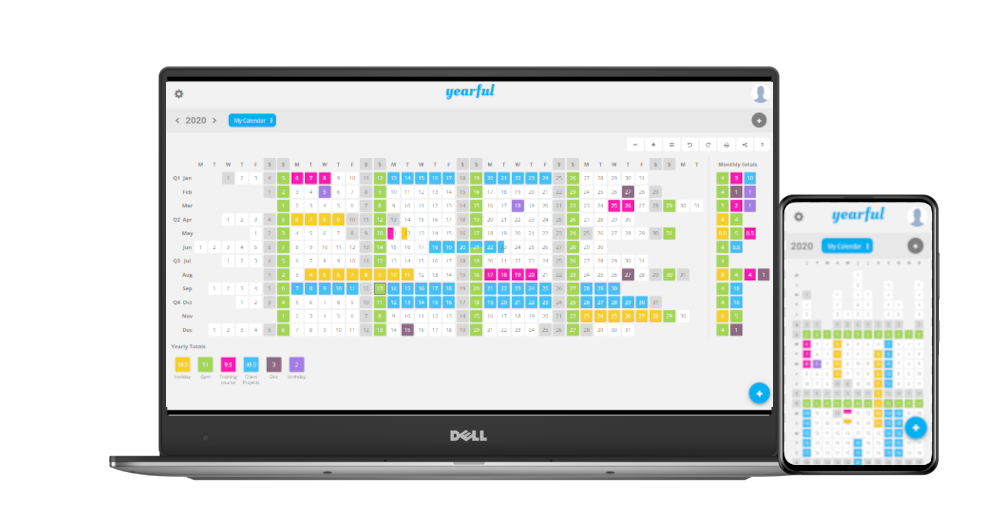 Why Seeing The Big Picture With Calendar App Is Important
Generally, when using a diary or a calendar you are looking at a day, a week, or a month at a time. This is great for more detailed plans – such as identifying times and places. But, when it comes to gaining an overview of your plans, these time spans have their limitations. Diaries especially are limited in this respect. You either have a day or a week to view per page. This makes it difficult to see what has gone before, and what is coming after. For example, if you are organising birthday cards that need to be posted, you would miss any birthdays that fell early the following week, unless you thought to turn the page. This means that cards would be late and those waiting for them may feel forgotten. Even with middle-term planning approaches such as monthly calendars, you can get caught out – particularly at the beginning and end of the month. A year planner app reduces the risk of things getting forgotten, because your entire year is there in front of you. There are no pages to turn and no risk of things becoming hidden and forgotten at the end of a week, or the beginning of the following month. A year view calendar app even allows you to look forward to the coming years, so if you have a recurring event that you attend, you can block out those dates for the next year. Similarly, hospital appointments, long-term work projects and vacations can all be added well in advance with a yearly and daily calendar app.
What To Look For In A Yearly And Monthly Calendar App
The main idea behind a monthly calendar app that shows the entire year on one page is to simplify your life and make organisation easier. Given this, one of the key features to look for in such an app is simplicity. The app should be easy to download or open, easy to use and simple to share. The dates for the year should easily fit on your screen, regardless of the size of screen you are viewing it on. You should be able to add new calendars for later years and switch between these yearly calendars with no problems. Adding events and reminders to your monthly planner app should also be straightforward. The best calendars allow you to color code different types of events so that you can see patterns and blocks with ease. So, for example, if you have booked a vacation you can block out the entire time in one color, say yellow. If you then have a vacation booked at another time you can block this out in the same color so at a glance you can see when you are unavailable. The app you choose should also allow you to place multiple events on one day, and to use different colors for each event. It is important that each color on any date can be seen clearly. Finally, the best calendar apps are web-based, meaning that they can be viewed and updated from any device that the app is compatible with. This makes updating your calendar easier while you are out, meaning you are less likely to forget dates that you have agreed with friends, colleagues or your boss.
Tips On Using Your Yearly Calendar App
Your year planner app only improves your organisational skills if you use it correctly. The first thing to remember is to add events to it straight away. As soon as you find the app that is right for you, add the dates that are already in your current diary or on your wall calendar. Start with things like birthdays and anniversaries; dates that are the same every year. School holiday, religious festivals that are important to you, and set vacation times can go on next. This gives you a basic overview of dates that are already booked out. Now you can add appointments, deadlines and other events. Once all the information you already have is transferred onto the calendar, you can make new arrangements, while being less likely to double book yourself. When setting up your yearly calendar app, it is important to choose colors that are obvious to you, and to group events carefully by color. So, for example, birthday and anniversaries might all be the same color, like pink. Vacations would then need to be a different color so that they stand out as a different type of event, so you might use blue. However, if you have different types of vacations, for example, family vacations, weekends away individually, or as a couple, you may want to use different colors. This is particularly relevant if they require different additional things to be organized, such as kennels for family pets, childcare, or vehicle hire. Choosing different colors is a simple process with the best calendar apps, such as the one offered by Yearful.
Access Your Year Planner App From Yearful Today
Whether you need to better organize your social life, your family, your career, or all the above, a year planner app is for you. To access the best possible planner that is easy to use and can be shared with family and friends, you need the calendar app from Yearful. Our app makes high-level planning a breeze. You do not need any special skills or experience to make the most of our app. Simply sign up, log in and start adding to your very own calendar. Use the online contact form to get in touch with any questions you have.